RIO SECO WATERFALL & TOCO LIGHTHOUSE
This is a leisurely all day tour from LimeLand House through scenic Caribbean countryside.
 Lots to see on the drive alone _ local honey and coconut vendors; cultivated fields of the best cocoa in the world, hot & sweet peppers, breadfruit trees (remember mutiny on the Bounty!?), hardwood trees such as Mora, Teak, Mahogany and Mahoe.
T&T's diverse religious culture is apparent in the many rural Churches, Temples and Mosques that we will pass.
Old European colonial estate houses still stand as a reminder of the age of the "Golden Bean"- i.e. Cocoa & Chocolate!
 After an hour en route we park the vehicle and begin an easy walk of 45mins through lush secondary rainforest following the course of the meandering Rio Seco.
The little exercise is rewarded by a picturesque and relaxing waterfall that feeds a calm and cool emerald basin. This breathtaking Oasis is punctuated under a shaft of sunlight that penetrates the thick forest canopy. Perfect spot for meditation, a relaxing swim and lunch.
If a little heart-pumping action is desired, Kayman will show you how to climb the fall and plunge 20ft into the basin below!
We head back along the forest trail to the vehicle and on to Toco Lighthouse. This robust Victorian structure overlooks the meeting of the Atlantic and Caribbean Sea! Kick-back and enjoy a view of Tobago from here. Experience a 'blowhole' that can blast your T-shirt or an old coconut husk way up into the air!
This is a lovely excursion for birdwatchers. Target species include the bearded bellbird, southern beardless tyranulet, an impressive white-bearded manikin lek, woodcreepers, honeycreepers, violacious euphonias and hummingbirds.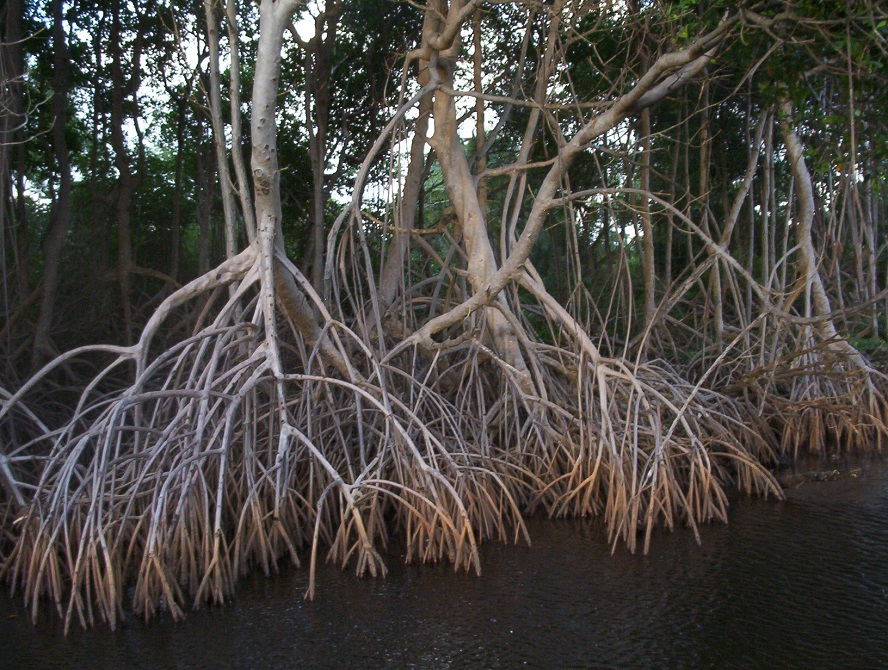 Mangrove tree.
Tour Musts:

Sturdy footwear (sneakers or hiking boots)
Change of footwear as very likely to get wet
Bathing costume and towel
Insect Repellant
Picnic lunch & refreshments provided
Night falls at 6.30pm so the walk back is in the dark.
Tour Duration : 8 hrs from/back to 'LimeLand'.

USD 120

usd per person.